Main goal
To create life entrepreneurs through holistic education and lifelong learning
The Unique and Innovative role of Teachers
The Indus preschool learning centre programme emphasizes trans-disciplinary education through an inquiry-based approach to learning. The curriculum encourages children to ask questions, plan investigations, explore various outcomes, and reach credible and logical conclusions, with teachers as facilitators. We provide a curriculum which is engaging, exciting, challenging, and relevant to young children. Using higher order thinking skills helps children understand, synthesize and assimilate what they learn, while enhancing their ability to transfer competencies and skills. This unique approach to learning makes Indus Early Learning Centre among the best preschools in Bangalore
The aim of the IELC curriculum is to provide a transdisciplinary curriculum which is engaging, exciting, challenging and relevant to the children who fall into the age bracket of one to seven years. It focuses on the whole growth of the developing child, touching hearts as well as minds and encompassing social, physical, emotional, cognitive and cultural needs in addition to academic development. At IELC, our IB inspired curriculum or programme prepares children to become active, caring, lifelong learners who demonstrate respect for themselves and others and have the capacity to participate in life and the world around them. It focuses on the development of the whole child as an inquirer, both within and beyond the classroom.
At Indus we believe that every child is altruistic and has the potential to change the world, for the better. We strongly emphasize the holistic development of a child. This journey begins in the early years by nurturing competencies and skills as listed below:
GRADE: PRE-NURSERY
The Pre-Nursery programme is designed to nurture young children, while providing the physical, emotional, and intellectual stimulus to help them optimize their potential for learning and growth. Our programme caters to students from ages 1 years to 2 years.
We guide the child on the road to discovery and inquiry, through our research- based standards and assessments along six developmental domains imparted through the play-based learning pedagogy. Our programme involves deep engagements that cater to sensorial awareness and literacy development through Story Time, Water Play, Sand Play, Library Time, Celebration of festivals and special days, Field Trips, Puppet shows and skits.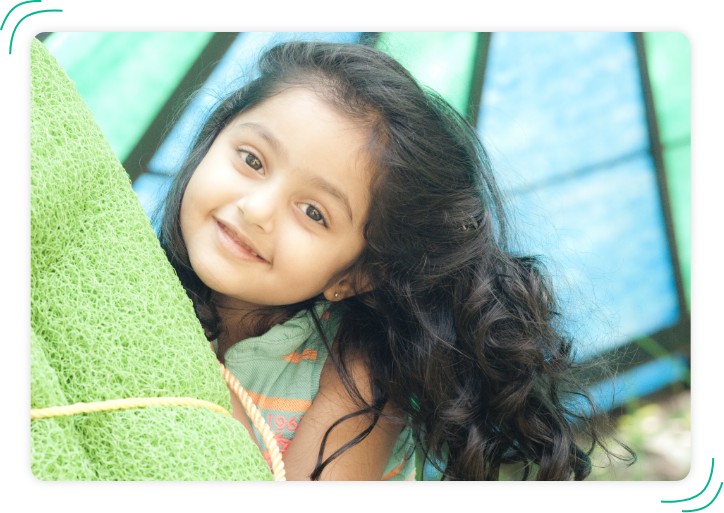 GRADE: NURSERY
In Nursery programme, a broad-based curriculum integrates a genuine love for learning through stories and language and expression, along with a focus on numerical concepts and exploration of the world around them. 
The primary focus is to help children gain independence socially, physically and emotionally whilst giving them opportunities to develop their linguistic, mathematical, creative and cognitive skills and helping them explore the world around them and orient themselves with the environment. We follow an inquiry-based approach that facilitates children's curiosity and experiential form of learning, that goes beyond academics, catering to students' signature strengths.
GRADE: RECEPTION
The Reception Programme is designed to provide a transdisciplinary curriculum which is engaging, exciting, challenging, and relevant to the children. It focuses on the whole growth of the developing child, touching hearts as well as minds, and encompasses social, physical, emotional, and cultural needs in addition to academic development.
Our Reception Programme caters to students from ages 3 to 4 years. This Programme imparts education through play-based learning in an inquiry stance. The curriculum encourages children to ask questions, plan investigations, explore various outcomes, and reach credible and logical conclusions, with teachers as facilitators. The curriculum is a balanced blend of five essential aspects: concepts, knowledge, skills, attitudes, and action
Language development in our Reception Programme is imparted through active engagement with the three strands of language — oral language, visual language, and written language.
Logical thinking and numeracy are imparted through an applicationbased approach through five strands, namely, number system, data handling, measurements, pattern and function, and shape and space.
Social and emotional growth is nurtured through our unique leadership curriculum that balances development of the intelligence and emotional quotient. The innate creativity and curiosity of students is further nurtured through our music and movement programme and creative arts curriculum.
GRADE: PREP ONE
In Prep One, we construct an environment and pedagogy that is secure and enriched, where students are encouraged to become life long learners, both inside and outside the classroom. With a strong focus on conceptual learning and development of leadership skills, children engage in a transdiciplinary curriculum that meets international benchmarks for Literacy, Numeracy, Science, Social Studies, and PSPE (Personal, Social, and Physical Education).
Emphasis is placed on the acquisition of communication and thinking skills through a culture that encourages learner agency. The leadership curriculum at Indus plays a pivotal role in progressing toward our aim of unlocking each child's potential.. Leadership is developed by encouraging self-awareness and thereby enabling students to discover their complete range of multiple and emotional intelligences. Sports, community involvement, fine and performing arts, and robust outdoor activities lend themselves to the fostering of leadership qualities. The focus is on connecting to self, nature, and community.
GRADE: PREP TWO
We offer the Prep 2 programme for children aged 5 to 6 years of age. The core skills we help students to imbibe and strengthen are critical thinking, communication, collaboration and creativity. We believe in following the child and helping them in attaining their potential capabilities. We endeavor to create a strong community where every child's developmental needs are met and they truly experience the joy of learning.
Prep Two has a distinct curriculum that is designed to challenge and nurture a child's multiple intelligences and diverse aptitudes and talents, to help them unlock their hidden potential. Learnings in the early year's program have core language development, units of enquiry with science and social studies as the foundation, second language exposure to Hindi and Spanish, dedicated reading programs that are levelled according to a child's abilities, Math, Music and Keyboard, Physical Education, Yoga, Coding & SEN/ESL (Special education needs & English as Second Language).
GRADE: ONE
Our aim for Grade 1 at Indus Early Learning Centre, Whitefield is to provide a thoughtfully considered and aesthetically beautiful, engaging, relevant and challenging learning environment to stimulate the learning and development of leaners aged six to seven years.
Our child-centered approach is designed using best practices from around the world and includes a holistic approach. We employ best practices like cross-curricular and differentiated instruction, multiple assessments, and project-based learning.
Our First Graders are respected as competent thinkers and communicators who are offered many opportunities to engage with a wide range of materials and resources to extend and challenge their thinking. Our environment invites children to explore, discover, hypothesize, predict, problem- solve, construct and document their understanding of the world in which we live. Our approach acknowledges the significance of socio-cultural theory in that children learn via quality interactions and relationships with people, places and things. 
We offer the Grade 1 Program for children aged 6 to 7 years of age.
SPECIAL EDUCATION NEEDS (SEN)
Indus Early Learning Centre, Whitefield prides itself on being an inclusive School. We strive to cater to the diverse needs of students by ensuring that each student gets equitable access to the learning curriculum.
We have a resource room where children with special educational needs (enrolled in the regular mainstream class) gather for special instruction. Trained educators are available to help them during this short period, away from their regular classes. The sole need of having a resource room is to cater to the multiple intelligences of the students. This is done by ascertaining their learning styles, restoring and building their self-esteem and working on their strengths and potential to make them confident and self-reliant.
Specially created worksheets, flashcards, educational games, graded readers and teaching aid, suited to various learning difficulties, are used to promote academic development. Students with special needs are supported primarily through remediation, accommodation and with certain exemptions especially during learning reviews, depending on the severity of the learning difficulty.
As a feeder School for one of the best IB Schools in the country, the SEN team is dedicated to bringing out the best in each child. The SEN team goes by the motto – "All children can learn".
ENGLISH AS A SECOND LANGUAGE (ESL)
Students at Indus Early Learning Centre- Whitefield come from diverse cultures, religions and creeds. Our School is a place where we value the importance of effective communication within and beyond the classroom.

Students with limited English language receive a combination of 'pull-out' and 'push-in' learning support, depending on their level of proficiency. The ESL support programme promotes academic English proficiency that will enable the integration of ESL students into the mainstream curriculum in no less than two years. ESL teachers work in active collaboration with homeroom and other specialist teachers to support them.

Our ESL teachers are all language teachers. Together, they help our students become confident in their English skills, which is the common language used in the school. They appreciate that students learn in different ways and therefore use a wide range of teaching methods.

Our courses are designed to build confidence and improve skills in reading, writing, speaking and listening. The courses provide students with opportunities to discover their self-worth through a range of enrichment activities.
The age criteria for Indus Early Learning Centre is determined through scientific research and detailed discussions between people who understand child psychology and growth patterns.
This ensures that the children are not over-burdened and are free to excel as per their capacity
PROGRAMME - AGE RANGE
Pre-Nursery

-

1 to 2 years